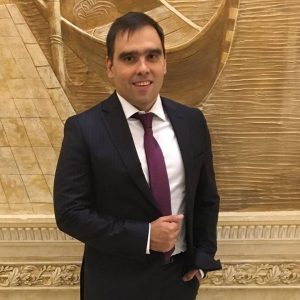 ---
Ad astra per aspera (Latin)
I am Andrey Useinov. I have intentionally written "About me" page in English, because now Information Technology sphere mainly used English for communication, education and business. I live in sunny Tashkent, capital of the Republic of Uzbekistan. I am from young days fun of Computers and IT. In my childhood in Soviet Union "Do It Yourself" was my favorite magazine. My main professional hobby in life – Computer Technologies and it's practical application. Because of that I chose my profession and also started write this Blog. As the saying goes, hobby and interest had become profession and vocation.
I have worked in Information Technology sphere more than 15 years. During this time I have been involved in Systems Administration, Programming, Information Security audits, IT text writing, Education tasks. Learning something new and share my knowledge with people are important part of my Life.
I always liked learning. When I was a preschool child, my father taught me to read. I guess, it was one of the main milestones in my life. After that reading books was always one of my favorite occupation. There was a time when every week we with friends met to discuss in our Booking Club. Every 7 days each Club member had to read selected book and had to write review about it's content. At that time I read more that 52 books a year. Except books from Book Club, I read more due to jobs necessity and especially for my pleasure.
I graduated Secondary School with Honors as one of the best student. On the same year I went to Tashkent Electrotechnical Institute of Telecommunication. May be, fortunately my result on Entrance Exams to Institute was the best among all applicants. Four and six years later I Graduated from the Institute with the Honors both bachelor's and master's degrees. During my education the institute was renamed into Tashkent University of Information Technologies. After my graduation I have been worked in IT sphere in different companies.
I have valid Cisco Systems certificates – CCIE, CCNP, CCDP (more than 10 different certificates), CISSP, also some EMC certificates, confirming knowledge of EMC technical solutions. Moreover there are some VMware and CheckPoint certificates, that expired due to lack of time, but knowledge of these products remained in my head. I guess, that certificates by themselves don't identify a professional, but together with experience and fulfilled real projects it can be used to define expert in his field. My personal experience of getting IT certification is represented in the article – «Сертификация в ИБ — CISSP».
Currently I am interesting in programming in Python, as well as DevOps, HighLoad, Ansible themes. I am fun of Linux Operation System, Apple devices, VMware virtualization systems and Cisco Systems network equipment.
I am the sole author of telegram channel – @itiseasyuz. This channel is about Information Technologies, my thoughts and my experience in this sphere. The content of the channel is the main ideas from this Blog. From time to time I write about the most important news and information in IT and Information Security.
If you would like to contact with me, you can do it through Telegram messenger — @andreyus, or through email admin [@] andreyus.com. If you need to communicate with me ASAP – the best way is using Telegram messenger. I will try to answer quickly due to my capabilities. There is no special feedback form on this site, because i think it's not necessary.